What is your favorite color? Green.
What is your favorite food? French bread.
What's your favorite place in the entire world? My husband's arms. (Blargh, I know, but I'm gooey.)
How has your upbringing influenced your writing? My parents are amazing and always encouraged me to write. They read everything I release, and I'm incredibly lucky to have them in my life.
Do you recall how your interest in writing originated? No, not really. My first novel was this terrible 13-page… uh… masterpiece I wrote in kindergarten. Since then, I'd like to think my craft has improved. I also think my love of reading has fueled me to explore fiction as an author.
What inspires you to write and why? Our world and the people in it. We live in such a dynamic, beautiful, and flawed world. I use Pinterest to keep track of all of the pictures, ideas, and articles that inspire me. If you'd like, you can check out my ideas for creatures, ideas for characters, and general inspirational images.
What genre are you most comfortable writing? I prefer anything related to fantasy or the paranormal. I just feel at home day dreaming about things we don't understand. To me, it writing fantasy feels like making the impossible possible.
What inspired you to write your first book? Lichgates and its full series, the Grimoire Saga, has been a work in progress since 2006.
What do you consider the most challenging about writing a novel, or about writing in general? Making time to write. The biggest failure of a writer is when he or she "doesn't have time" to write. There will never be time. It will never be convenient. If you want this—if you want to be a writer—you have to make time. That's true of any goal. If it's your passion, you'll make it happen.
Did writing this book teach you anything and what was it? Oh yeah, definitely. My goal is to experiment with every novel I write. Lichgates was an experiment in finishing a book and learning what it took to become a real author. Treason was more of a literary indulgence, and I used it to experiment with various types of betrayal. There are several types of betrayal in Treason, and it was my goal to hone my writing craft to build a smoother narrative and even more dynamic characters. So yep, every book has a lesson to share.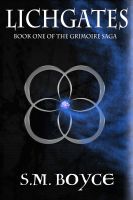 "The writing is flawless. The kingdoms and surrounding landscapes breathtaking. The Grimoire is a piece of imaginative genius that bedazzles from the moment Kara falls into the land of Ourea. – Nikki Jefford, author of the Spellbound Trilogy
Spring 2013 Rankings
#6 Kindle Store | #1 Science Fiction & Fantasy | #1 Epic Fantasy | #1 Sword & Sorcery | #1 Teens
Now an international Amazon bestseller. Fans of The Hobbit, The Lord of the Rings, and Eragon will enjoy this contemporary remix of the classic epic fantasy genre.
—————-
Kara Magari is about to discover a beautiful world full of terrifying things: Ourea.
Kara, a college student still reeling from her mother's recent death, has no idea the hidden world of Ourea even exists until a freak storm traps her in a sunken library. With nothing to do, she opens an ancient book of magic called the Grimoire and unwittingly becomes its master, which means Kara now wields the cursed book's untamed power. Discovered by Ourea's royalty, she becomes an unwilling pawn in a generations-old conflict – a war intensified by her arrival. In this world of chilling creatures and betrayal, Kara shouldn't trust anyone… but she's being hunted and can't survive on her own. She drops her guard when Braeden, a native soldier with a dark secret, vows to keep her safe. And though she doesn't know it, her growing attraction to him may just be her undoing.
For twelve years, Braeden Drakonin has lived a lie. The Grimoire is his one chance at redemption, and it lands in his lap when Kara Magari comes into his life. Though he begins to care for this human girl, there is something he wants more. He wants the Grimoire.
Welcome to Ourea, where only the cunning survive.
—————-
Novels in the Grimoire Saga:
Lichgates (#1)
Treason (#2)
Heritage (#3) – Available Fall 2013
Illusion (#4) – Available Fall 2014
Buy Now @ Amazon & Smashwords
Genre – Fantasy
Rating – PG13
More details about the author