How to Make Your Characters Believable
by Marquis Boone
Spend more time living as the character and not just writing about them. the more you become the character the more believable they become. I put myself in the story and during my writing I live like them and I allow my living like them to flow in my writing.
How to Network Online to Promote Your Book
by Marquis Boone
Use pictures of reviews from tweeter or facebook and upload them encouraging people to buy your book. This is worked so much for me because its the words and face of others talking about your book. Many times people go buy it just because someone else has read it.
Why Book Covers are So Important
by Marquis Boone
Book covers are so important because lets be honest people are visual and no matter how great the information or story is inside the cover people will always judge the book by its cover!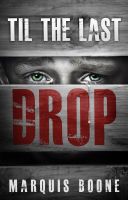 Buy Now @ Amazon & Smashwords
Genre – Religious Fiction
Rating – PG
More details about the author & the book