Tell us about your new book? What's it about and why did you write it? "Not a Whisper" is the first in the Klondike Mystery Series. Set it a small fictional town in north central Pennsylvania. A group of mostly retirees form the Klondike Breakfast Club or KBs as they like to call themselves. When one of their members goes missing after a suspicious fire, they join forces to find him and prove him innocent of arson and murder.
How did you come up with the title? I honestly don't remember but it came along with the dream that became the prologue. There is one place in the book that the title is used in dialogue. I intend to do that with all the titles in this series.
What was the hardest part about writing this book? I was surprised at the amount of research I had to do – forensics, fire patterns, state laws and jurisdictions to name a few.
What genre are you most comfortable writing? When I started outlining "A Montana Chance" about fifteen years ago, I was positive that I'd be writing romances. After finishing that outline and writing the first few chapters, it got put on the back burner for Camp NaNoWriMo.
For that I had a location, a few characters and a dead body. I didn't even know who the killer was myself. By the time "Not a Whisper" was finished, I had two dead bodies, two kidnappings, a heart attack, an auto accident and multiple villains.
It was official, I had fallen in love with writing mysteries!
Do you have any specific last thoughts that you want to say to your readers? If you would like learn more about the characters in "Not a Whisper", you can download the free "Klondike Kompanion" [pdf] from my website. It has interviews with all the main characters in the series. http://donnamcnicol.com/books/KlondikeKompanion.pdf
If you could leave your readers with one bit of wisdom, what would you want it to be? If read a book you love, please leave a review where you purchased it (Amazon, Smashwords, etc) as well as Goodreads. You'll help others find and enjoy the good books and the author will love you for it!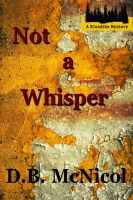 When Cherie Marshall catches her fiancé and best friend in a compromising position, she cancels her upcoming wedding and jumps at the chance to escape to quiet Klondike, Pennsylvania to care for her elderly aunt. She thought her biggest issue would be adapting to life in the middle of a National Forest, so very different from her upbringing in the deserts of Arizona.
But that was before she met State Trooper Fire Marshall Jamison "Jazz" Maddox at the scene of a mysterious fire. As they both become acquainted with the close-knit Klondike residents, things get complicated as Cherie and Jazz find themselves in the middle of a local crime wave where arson, kidnapping, embezzlement and a decades old murder are just the tip of the iceberg.
Buy Now @ Amazon & Smashwords
Genre – Cozy Mystery
Rating – PG
More details about the author
Connect with DB McNicol on Facebook & Twitter
Website http://donnamcnicol.com/