What are some of the best tools available today for writers, especially those just starting out?
Professional writing organizations. The Romance world has RWA (Romance Writers of America) and it has been invaluable to me on so many levels. There are classes, resources, but most of all fellow chapter members who have been willing to share ideas and insights and help with networking. If you can, join a professional writing organization. Now.
What contributes to making a writer successful?
Perseverance. This is not a business for the faint of heart. You will face dead-ends and roadblocks. But the only way to be a success is to keep going. Remember, Stephen King was rejected 75 times before he got a yes, and something like 26 publishers turned J.K. Rowling down before someone picked up Harry Potter. I once heard that the average ratio is 1 yes to every 12 nos, so keep going!
Do you have any advice for writers?
Always, always, always work on your craft. Take classes, read craft books, and above all, practice. And let people read what you've written. No one is ever a perfect writer, and an adequate writer – which is what most people start out as – can only become a good writer with practice and constant instruction. Do not be too proud to learn how to write better.
Do you have any specific last thoughts that you want to say to your readers?
Thank you! It's YOU who have made my dream come true. And keep reading, I'm getting better all the time.
What do you do to unwind and relax?
I am a huge cricket fan! Yes, me, an American girl, loves cricket. You know, the second most popular sport in the world that Americans know nothing about? I am a member of a local club here in Philadelphia and I've just completed an international cricket scorer's class. My club president wants me to become an umpire. Maybe I will, but I hear the smack that players talk about the umpires, soooo….
What dreams have been realized as a result of your writing?
Seeing my name on a book that people have bought. That's been the biggest dream of all. And I write my historical romance novels under my real name. I've always wanted to see MY name on a bookstore shelf. If and when my sci-fi and inspirational romance is published, however, it will be under pseudonyms.
If you could leave your readers with one bit of wisdom, what would you want it to be?
Never take things too seriously, whether it's a book, your family, or your life. You really do choose to be happy. Also, the less you complain, the less you have to complain about. So stay on the sunny side of life!
When you wish to end your career, stop writing, and look back on your life, what thoughts would you like to have?
Ah! That was fun!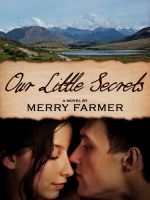 Michael West swore he would never fall in love again. So when the beautiful and wily Charlotte steps off the train looking for a new life he jumps at the business opportunity she presents. Engaged forty-five minutes after meeting, married the next day, Michael thinks he's found everything a respectable man should have. Except that Michael is as far from respectable as they come. They agreed not to ask questions about each other's pasts, but when the past seeps into their present Michael suspects his passionate new wife is not who she says she is. Too bad he's already fallen in love with her.
Charlotte Baldwin has a secret. She fled Philadelphia to escape the sins of her past but someone is following her. What better way to hide than by marrying Michael West, Cold Springs, Montana's enigmatic shopkeeper? A new name, a new life, and a passionate husband is exactly what she needs to leave her sins behind. But when it comes to keeping secrets Charlotte may have met her match in Michael. When a connection neither of them expects catches up with them, the shocking revelation means Charlotte may have run right into the arms of her enemy.
No sin stays a secret forever….
Genre – Western Historical Romance
Rating – R
My Review:
Our Little Secrets
by
Merry Farmer
My rating:
4 of 5 stars
Why would you recommend or not recommend this book? I recommend this book to anyone who likes historical romance books.
Who in this book would you most like to meet? Michael's father just so I could smack the man.
Top 3 things I liked about the whole book. The historical setting. How the author wrote Charlie as a strong female and not needing a male to support her. The strong supporting female roles like Delilah.
Disclosure: I received a review copy of this book from the author.
View all my reviews